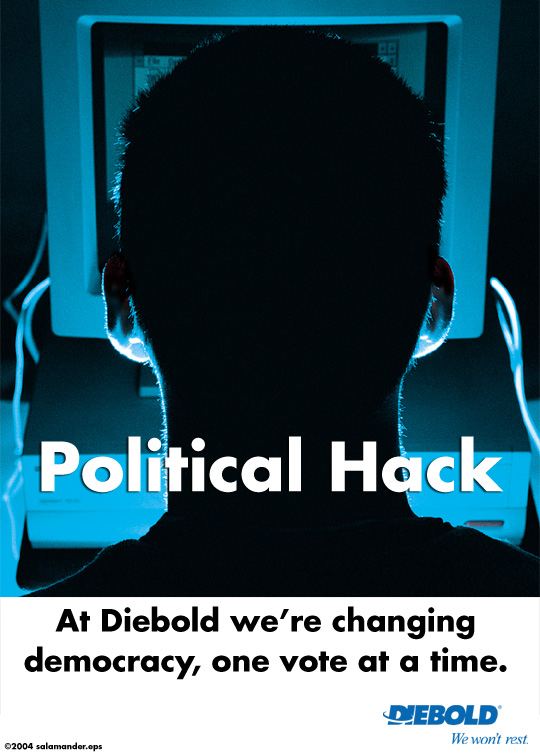 Given the polls, Hillary Clinton probably shouldn't get more than 57 percent of the vote. Booman actually thinks that Obama could win. Even if she wins by five points that won't be enough. She really has to get to 63 percent. Here are two separate stories on how easy it is to hack the Pennsylvania vote:
From Bradblog:
On Tuesday night, you will be told who the winner of the Pennsylvania Primary is. You will accept it. You will have no choice. No matter who the winner really is. Or isn't.

This Tuesday's crucial contest will be primarily run on 100% faith-based, Direct Recording Electronic (DRE, usually touch-screen or push-button) e-voting machines across the state. There will be no way to determine after the election whether the computers have accurately recorded, or not, the intent of those voters who voted on them. As VerifiedVoting.org summarizes the crucial contest, it "will be essentially unrecountable, unverifiable, and unauditable."

Most of the votes, more than 85%, will be cast on such DRE systems which do not provide so-called "Voter Verified Paper Audit Trails" (VVPATs), as their use has been found unconstitutional in the state, since its been determined, accurately, that ballot secrecy cannot be guaranteed when using such paper trail systems. Not that it matters.

With or without a so-called "paper trail" printer, all touch-screen/push-button/DRE voting machines are equally unverifiable and antithetical to American democracy. Period.

So, as with South Carolina's primary, so so long ago, and other states since, whatever the officials tell you at the end of the election is what you, and we, will have to accept. Whether votes are counted accurately is completely out of anyone's hands at this point. It's strictly Democracy of the Gods...
It's all a magic show, a series of illusions that can be manipulated by the entertainers, also known as politicians, or anyone well placed and determined enough to manipulate a system with few if any real safeguards.

The failure to discuss real issues is an insult to all citizens. It might explain why a majority fail to vote in primary elections and why 35% to 40% consistently fail to vote in the general elections for president. A common refrain among those who refuse to participate is "Why bother, they're all a bunch of crooks." Among those who do vote, there are huge doubts about the honesty of elections. A 2006 Zogby poll of 707 likely voters in Pennsylvania asked this question: "Do you think the 2004 election was stolen?" Forty percent said yes.

The public officials who control elections behave as though the people are stupid and ignorant of the questionable practices of secret vote counting and outsourced elections. Wrong! The citizens of Pennsylvania know what the story is. Just add the 40% of likely Pennsylvania voters who thought 2004 was stolen with the 35% to 40% who routinely stay home because they doubt the system. That produces a majority of citizens who have serious doubts about a system created to serve the elected and not the electors.

The news media act like the people are a bunch of sheep who buy whatever the media put out because some people actually watch the news. They fail to note that in polls on public respect for various professions, the television news media gets a 16% approval rating. The people who booed debate anchor Gibson are a perfect reflection that attitude.

The politicians showed their respect for citizens after the 2006 election, when the message was clear. Get out of Iraq. They have their excuses. But the reality of the charade was made crystal clear in at the Philadelphia presidential primary debate. While enduring an hour when no real issues were discussed, did you hear either candidate criticize the news people for their inane questions? Not a word.
I will attempt to pull the lever for Obama. We'll see. Let's watch very carefully what happens in Philly's black wards.
Labels: hackable elections, seen this movie before