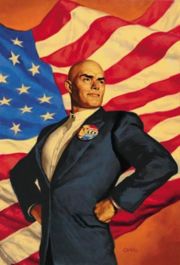 My Big Fat Evil American Empire

Time for a new feature here. I call it My Big Fat Evil American Empire. Here's a graphic of Lex Luthor as president. Of course, he's different from George Bush in that Lex is widely regarded as being competent.
Featured story from major reporters on the election fraud beat:
Will Bush cancel the 2008 election?
by Harvey Wasserman | Jul 31 2007 - 9:01am |
article tools: email | print | read more Harvey Wasserman

by Harvey Wasserman & Bob Fitrakis
It is time to think about the "unthinkable."

The Bush Administration has both the inclination and the power to cancel the 2008 election.

The GOP strategy for another electoral theft in 2008 has taken clear shape, though we must assume there is much more we don't know.

But we must also assume that if it appears to Team Bush/Cheney/Rove that the GOP will lose the 2008 election anyway (as it lost in Ohio 2006) we cannot ignore the possibility that they would simply cancel the election. Those who think this crew will quietly walk away from power are simply not paying attention.

The real question is not how or when they might do it. It's how, realistically, we can stop them.
But wait there's more:


Today we must ask: who would stop this administration from taking dictatorial power in the instance of a "national emergency" such as a terror attack at a nuclear power plant or something similar?

Nothing in the behavior of this Congress indicates that it is capable of significant resistance. Impeachment seems beyond it. Nor does it seem Congress would actually remove Bush if it did put him on trial.

Short of that, Bush clearly does not view anything Congress might do as a meaningful impediment. After all, how many divisions does the Congress command?

The Supreme Court, as currently constituted, would almost certainly rubber stamp a Bush coup. If not, like Jackson, he could ignore it as easily as he would ignore Congress.

What does that leave? There is much idle speculation now about what the armed forces would do. We also hear loose talk about "90 million gun owners."

From the public side, the only conceivable counter-force might be a national strike or an effective long-term campaign of general non-cooperation.

But we can certainly assume the mainstream media will give lock-step support to whatever the regime says and does. It's also a given that those likely to lead the resistance will immediately land in those new prisons being built by Halliburton et. al.

So how do we cope with the harsh realities of such a Bush/Cheney/Rove dictatorial coup?

We may have about a year to prepare. Every possible scenario needs to be discussed in excruciating detail.

For only one thing is certain: denial will do nothing.